Gabion cage Material : low carbon steel wire, Al Gore who , PVC coated, high-rise galvanized, electro-galvanized , zinc-aluminum alloy
Gabion cage preparation methods: by metal wire woven angular Network ( Hexagonal ) made ​​cages .
Gabion cage made ​​of high corrosion resistant and high strength, ductility, low carbon steel wire or PVC coated wire using the above mechanical woven mesh made ​​of the use of the box -type structure is the gabion .
Gabion cage manufacturing process : After artificial cut, folded , processed into gabion boxes.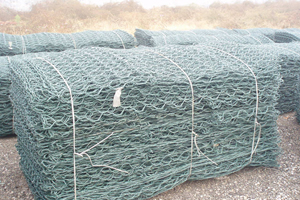 Anti- rust Gabion advantages:
( 1 ) the economy. Just a stone into the gabions and seal .
( 2 ) the construction is simple , no special techniques.
( 3 ) have a strong withstand natural damage and corrosion and resistance to adverse climate impacts ability .
( 4 ) can withstand a wide range of deformation, but not collapse.
( 5 ) the mud between the stones is conducive to plant production, can be fused with the surrounding natural environment as a whole .
( 6 ) has good permeability, can prevent the damage caused by the hydrostatic .
( 7 ) to save transportation costs. It can be folded together for transport and assembly on site .